My dad gave me some great advice; I wish I'd taken it! (YouTube video blog [Vlog] link: https://youtu.be/boY0C1Tm_Z0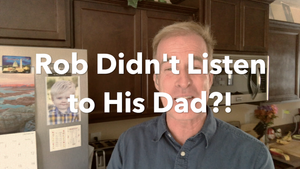 We all want to give our kids an edge in life. We want them to benefit from the wisdom of our experience. But what if they're like I was, and they won't take their parents' advice? 
One word: mentors. 
My Music & Performing Arts Workshops (which begin next month Sep. 9-10 weekend in Mission Viejo, CA) will include a mentoring component. My aim is to help your kids find local, godly mentors to speak into their lives from time to time. I'll share about how my older brother mistreated me for many years, then repented and changed completely! I'll share how I have struggled with timidity and overcame it (2 Timothy 1:7).
I know we live in a social media age. I know that kids spend 7 1/2 hours a day looking at their screens, sometimes wishing they were someone else. I know that a lot of adults think we've "lost" the culture war. Maybe it's true. But there is still hope! (Psalm 73:25) 
If you'll spread the word and help me get an audience of 8-18 year old kids & teens in Mission Viejo in 3 weeks https://www.mookidcity.com/worshipworkshop, I'll give it all I've got to remind them of who they are in Christ. I'll let them share their thoughts, and ideas, and creativity. And we'll have a BLAST singing, dancing, and performing a show for you! Click here to register your child(ren): https://www.mookidcity.com/worshipworkshop 
If you would SHARE my posts and links on Facebook, Twitter and Instagram, I'd sure appreciate it. 
Pointing kids to Christ has ALWAYS been my favorite thing to do, and perhaps it matters more than ever these days. 
I welcome your comments... 
Rob