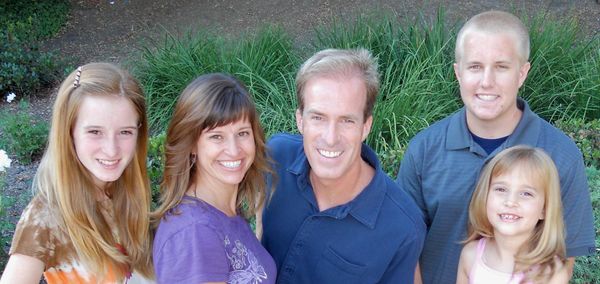 Many people know the Biagi Family from their time as a traveling music/ministry family, but they are also an everyday Christian family trying to "represent Jesus," just like many of you:

Rob is a left-handed, life-of-the-party, leukemia survivor (yup, you read that correctly! Back in 2008).  He cries at Disney/Pixar movies, and does pretty good voice impersonations. Rob believes he had "love at first date" with Kathleen (awww!)  In 1997 Rob trusted Jesus Christ as his Savior and gained the confidence to talk and sing in front of people!  He likes chicken teriyaki, being outside, and listening to Steven Curtis Chapman.

Kathleen is a 5'1" former gymnast who can also be the life-of-the-party.  Our house is a loud house! She is a hard worker, fiercely devoted, and a funky dancer. If she had a "do over," she would have been a detective. She takes great care of her family and her favorite snack is chips and salsa.

Matt has a GREAT heart and a delightful sense of humor! He talks in his sleep, enjoys playing hockey and baseball, and prefers being "behind the scenes" in ministry. In 2012, he became a police officer.  He married his long-time girlfriend Dana in summer 2014 and they have two little boys: Cody and Bryce. They all live in Southern California.

Juli is a 21-year-old musical-theater student in Indiana. She sings, dances, and and quotes movie lines from dawn until bedtime. She knows how to make us laugh!  She is an absolute joy, and has friends and fans around the world. God has given her some amazing opportunities (and great training!) in her college years.

Natalie is sweet and thoughtful middle-schooler. Her best friends are Abby (from her old school), Emma (from her new school), and Lauren (from our new neighborhood).  Her favorite snack is Goldfish crackers, and she loves to cook!  She used to hate itchy tags in the back of her shirts and dresses. Oh yeah, and she had leukemia from (2007-2010).  With God's help, and God's people alongside her, she beat it! We pray that God will do a work in Natalie and use her powerfully in a life of service to him.
Since 2003, the Biagi Family has been traveling the United States ministering to children and families through Rob's music. Rob's ministry is marked by high-energy worship concerts and dynamic teaching. "Rob Biagi Productions" has shipped music CDs and motions-and-training DVDs to all 50 United States and over 30 foreign countries to date. Thousands of churches around the world have used Rob's music and Kathleen's motions.